Peak: Copeland Mountain (13,176′)
Date: November 1, 2014
Trailhead: Allenspark
Approach: Pear Lake
Distance:  16 miles
Elevation Gain:  5,100 ft.
Participants: Clay Wyatt, Dillon Sarnelli
If you've ever driven down the Wild Basin Road in Rocky Mountain National Park and wondered what that huge bulky 13,000 foot mound in front of you was, you were probably gazing at Copeland. The USGS lists this peak as "Mount Copeland", but all other sources seem to call it "Copeland Mountain". Whatever you want to call it, you'd have to agree it's massive for Wild Basin standards and the summit views, should you choose to slog up this behemoth, give you a front row seat into everything the southern end of the Park has to offer.
With Indian Summer still in full effect, it was obvious that another short drive up to the Park was in order. I had spent most of the previous week on the couch trying to recover from a 48 hour east coast double overtime drinking binge in Nittany Lion country and was itching to get some much needed exercise and fresh air. Copeland seemed like a solid choice. It's been on my radar for quite some time, but for some reason I usually choose to walk right past it when I'm jonesing the Wild Basin. To keep it interesting, I've always wanted to approach it from the south via Pear Lake. This avoids a bit of the bushwack, adds one of Colorado's finest alpine lakes, and takes you into one of the most remote areas of the southern Wild Basin.
Clay was eager to make only his 2nd trip into the Park (1st if you don't count Longs). He's spent a good deal of time exploring the Indian Peaks, but a few years back he traded in his hiking boots for a mountain bike so I hadn't seen him in a long time. I was looking forward to the reunion and he was pumped to hit the RMNP.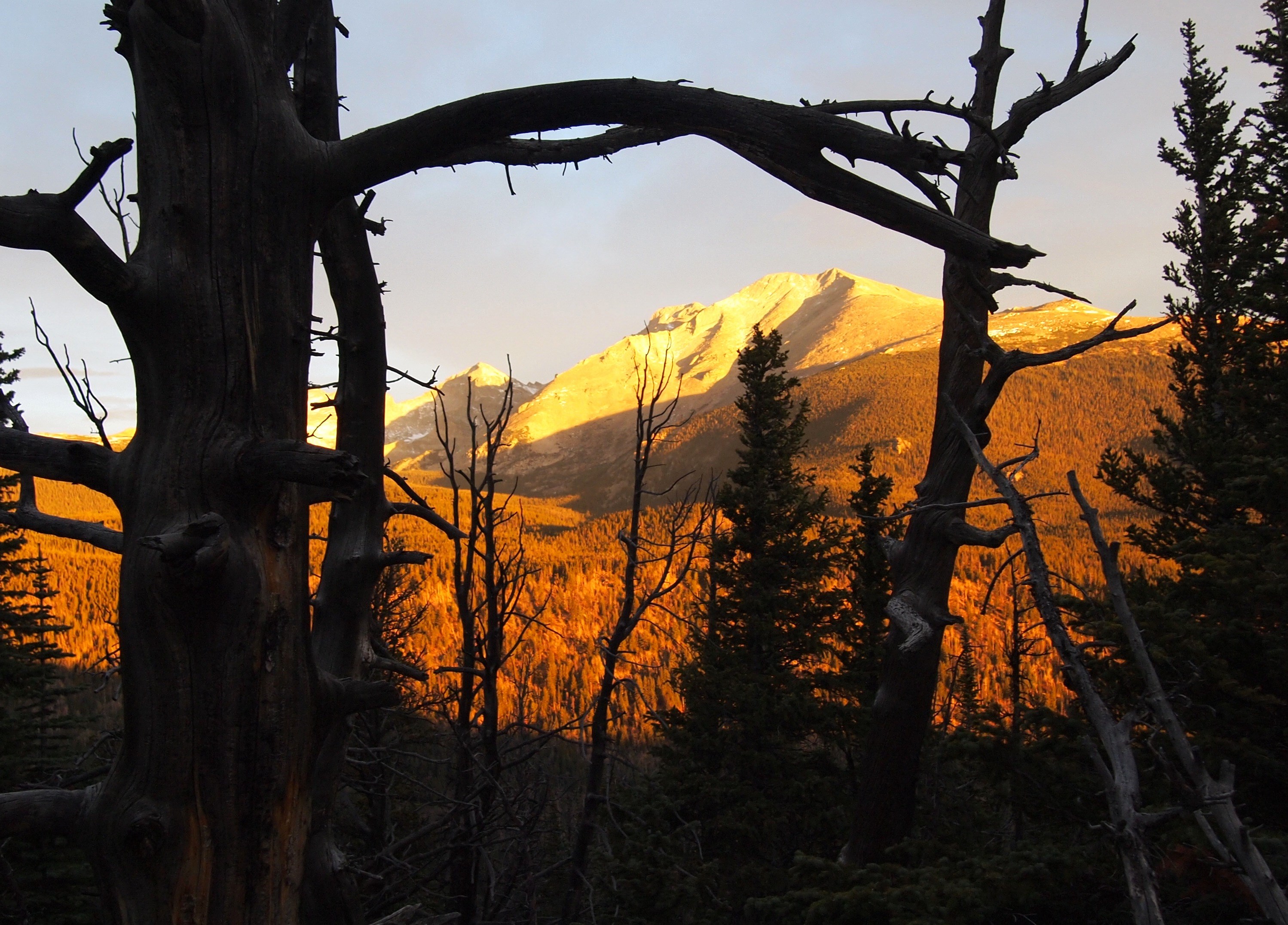 Finch Lake, elevation 9,912′, is 4 miles and 1,400 feet from the Allenspark TH. Most of the vertical gain comes in the first mile or less. The remainder is a walk in the park. 🙂 From Finch Lake, Copeland is due west and can be seen to the right in the photograph above.
A little history on Pear Lake: The area around the lake with little vegetation is actually the remnants of the "bathtub ring" from when it was dammed and underwater in the early 1900's.
From Pear Lake the rest of the trek to Copeland is a choose your own adventure. We left the trail and headed north (right) around the lake through the trees and began our 2,500′, 1.5 mile ascent to the summit.
The wind was something fierce to the south so we descended a little to the north and took a breather. Clay whipped out a burrito as big as his head while I was content with some gummy bears and a red bull. Until this point the plan had always been to do an out and back from Pear Lake, but with perfect weather and some familiarity with the area, we made a game time decision to descend to Ouzel Lake and the Bluebird Lake trail and make a loop out of it.
Always keeping it exciting, we descended a little too soon to the north and ended up in a steep Class 3/4 gully. This was not quite the gentle northeast slope on the standard route to Ouzel Lake we had intended to hit. Things got a little interesting when we thought our gully might cliff out and the ice got real, but in the end it all worked out.
From the Bluebird Lake trail to Calypso Cascades it was business as usual. At the cascades we veered right (east) onto the Allenspark Trail since the jeep was at Allenspark and not Wild Basin. This required an extra mile and about 500 feet of reascending, but the views more than made up for the the extra effort.
Copeland Mountain, once again proving that any day in Wild Basin is going to be a big day! Claybird, it was great to see you again. If you make a habit out of 16 miles days without the mountain bike in 2015, hit me up man. I hope the Park lived up to the hype!
Until next time, thanks for reading!